Vanguard® High FTS 270 Product Announcement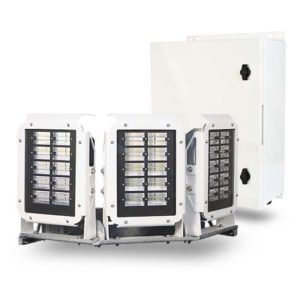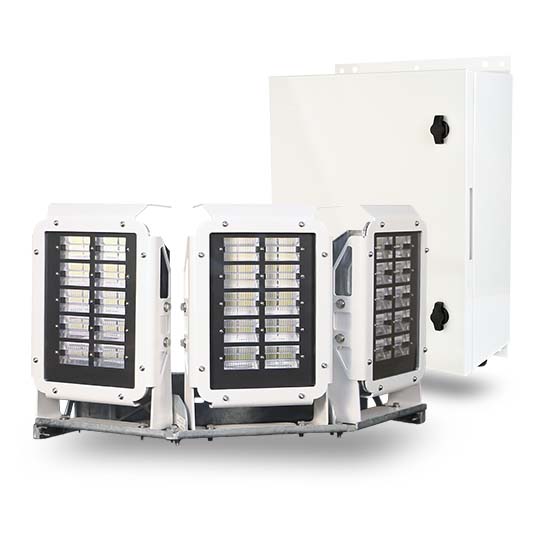 Flash Technology, a global leader in aids-to-navigation solutions, announces the launch of the Vanguard High FTS 270 LED tower lighting system. The system is appropriate for broadcast towers, skyscrapers, smokestacks, bridges and other applications requiring high intensity obstruction lights.
Regulatory Compliance
The FTS 270 LED obstruction light, FTS 372 AOL beacon and MKR 371 meet or exceed both domestic and international lighting standards.
United States
FAA AC 70/7460-1L tower types B3-B6, C3-C6, F3-F6 and G3-G6
FAA AC 70/7460-1K tower types B2-B6, C2-C6, F2-F6 and G2-G6
FAA Engineering Brief 98 (infrared)
FAA L-856 (high intensity white, L-864 (medium intensity red), L-865 (medium intensity white) and L-810 (steady or flashing red marker lights
International
Features and Benefits
Engineered for maximum LED life, the feature-rich Vanguard High obstruction lighting system provides ultimate serviceability, including reduced installation time, enhanced troubleshooting and minimized downtime if maintenance is required.
Key Features
Each flashhead panel integrates white, red and infrared (IR) LEDs, in compliance with FAA Engineering Brief 98. The design removes the need for a separate red light system.
An integrated GPS serves as a back-up for the photodiode. Using sunrise/sunset data, the system will automatically change lighting modes should the photodiode fail.
Altimeter sensors pinpoint the location of each light on the tower, reducing installation errors and simplifying troubleshooting.
The system boasts an industry-leading 25 kA surge suppression rating when installed following Flash Technology best practices. This rating protects against 99% of all lightning strikes, making it appropriate for even the most rugged environments.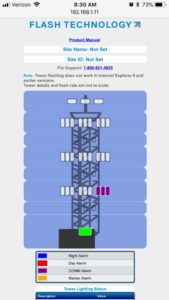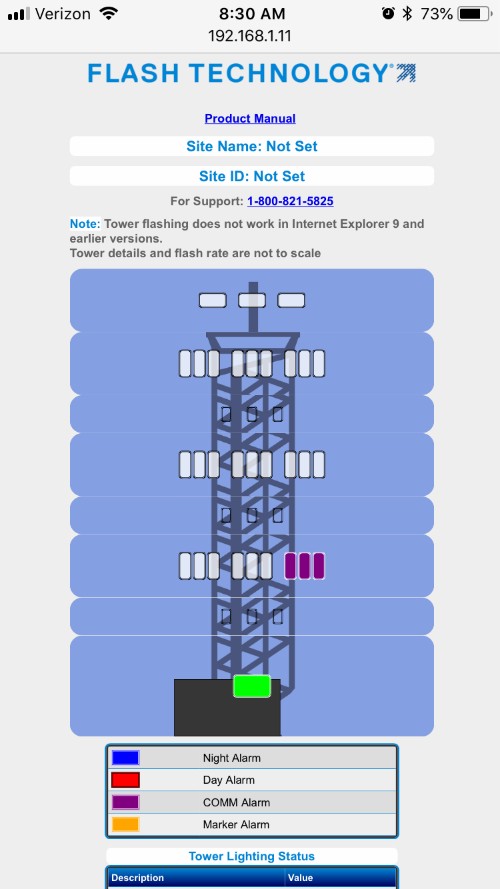 Monitoring
The system comes equipped with SMART monitoring capabilities, including a web interface for setup and diagnostics through an optional Wi-Fi-enabled device. The interface provides clear insights into the mode and alarm status of individual lighting elements.
SMART monitoring also allows for remote monitoring and system control through an LTE modem or Ethernet-based connectivity. SNMP, Modbus or Eagle protocols are included with all systems.
While the tower light system comes equipped with 7 standard dry contacts, an optional relay expansion allows up to 28 additional dry contacts for greater insight into alarms.
Installation and Maintenance
Pre-terminated quick connect cables with twist-lock plugs decrease installation errors, enhance troubleshooting flexibility and reduce installation time.
Local mode override at each light unit speeds up troubleshooting.