Solar LED Lights Offer Rapid Solutions for Emergency Response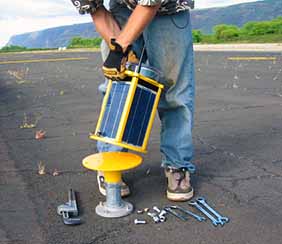 How do you prepare for emergencies? Planning for the worst is an unfortunate but necessary part of running a city, military branch, school or business. For anyone charged with ensuring safety during emergencies, backup and safety lighting is likely a key point on your to-do list.
We're here to help with solar lighting solutions for a variety of infrastructure applications. Flash Technology's solar airfield lights and obstruction lights are built tough and guaranteed to perform in extreme weather—whether you are dealing with a flood, hurricane, earthquake or another emergency. They require no specialized tools or installation team since there is no in-ground wiring to install. Our solar aviation and obstruction lights are compact and portable for easy deployment when time is tight.
Our solar LED lighting products are helpful during disaster relief and during the rebuilding process:
Airfield lights: Deploy a portable, temporary runway in a disaster zone that is easy to move to another location as needed. Provide reliable lighting to existing helipads in the area to ensure safe transport of supplies.
Obstruction lights: Ensure buildings, equipment, temporary roads and other potential hazards are visible day and night.
Marine lights: Restore direction and safely guide boats and ships through waterways, ports and beach landing areas with self-contained lanterns.
Disaster Response Lighting Study: Hurricane Katrina
In August 2005, Hurricane Katrina struck the Gulf Coast of the United States, with 140 mph winds that caused an estimated $100 billion in damage across Louisiana, Mississippi and Alabama. Ultimately, the hurricane affected about 90,000 square miles of the US and killed nearly 2,000 people.
In the week after the storm hit, orders for more than 500 solar LED lights poured in, to help rebuild facilities and restore services lost in the tragedy. In order to meet the urgent demand for light, the company diverted all of its inventory and production to the hurricane region; its marine distributors worldwide volunteered to forego shipments until the orders for the hurricane zone could be filled.
Marine navigation lights: The bulk of the orders were sent to the US Coast Guard in Mobile, Alabama, for distribution across the region. The lights were attached to buoys to restore direction in shipping channels.
Railway obstruction lights: Railway bridges along a hard-hit 100-mile stretch between Pascagoula, Mississippi and New Orleans, Louisiana, were outfitted with 100 obstruction lights.
Aviation obstruction lights: Aviation obstruction lights helped ensure safer transport of personnel and supplies in the area.
Helipad lights: 100 solar helipad lights assisted the US Army National Guard with emergency troop trnasportation, humanitarian rescue operations and movement of food and emergency suppiles.