RAF Mildenhall – Bury St Edmunds, Suffolk, UK
Officially opened in 1934, RAF Mildenhall hosted 350 aircraft when King George V visited during his Silver Jubilee in 1935. During World War II, aircrews launched more than 8,000 sorties from the base, flying Wellington, Short Stirling and Avro Lancaster bombers. As the Korean conflict began in 1950, the base was made available to the United States Air Force for B-29 Superfortresses of the Strategic Air Command. Most recently, it has hosted units from the USAF Air Combat Command, Air Force Special Operations Command, Air Mobility Command and United States Air Forces in Europe, as well as United States Navy units.
RAF Mildenhall Fast Facts
Location: Bury St Edmunds, Suffolk, UK
Installation size: 1,162 acres
Runways: 11/29
Runway length: 9,221 ft
A gas station pump operating for 24 hours wouldn't pump as much fuel as a KC-135R pours through its boom in 8 minutes.
Enough material is contained in the tires of the KC-135R landing gear to produce 100 car tires.
Due to RAF Mildenhall's close proximity to RAF Lakenheath, runway 29 is preferred. Runway 11 requires coordination as Lakenheath's 06 runway approach passes directly over runway 11's end.
CV-22 Ospreys may utilize the "Alpha" helipad near the western taxiway to runway 11 for vertical take-offs.
100th Air Refueling Wing
The 100th Air Refueling Wing (ARW) is a USAF unit stationed at RAF Mildenhall, where it is the host wing. It is the only permanent US ARW in the European theater and, in fiscal year 2014, the unit flew 1,575 missions totaling 8,296 hours – equalling more than 345 days in the air. During these missions, the 100th ARW refueled 5,463 US and coalition aircraft with 58.2 million pounds of fuel.
During World War II, its predecessor, the 100th Bombardment Group (Heavy), was an Eighth Air Force B-17 Flying Fortress unit stationed at RAF Thorpe Abbotts. Flying over 300 combat missions from June 1943 to April 1945, the group earned two Distinguished Unit Citations. The group experienced several instances where it lost 12 or more aircraft on a single mission with 177 aircraft MIA. Due to the number of losses, the unit inherited the "Bloody Hundredth" from other bomber units.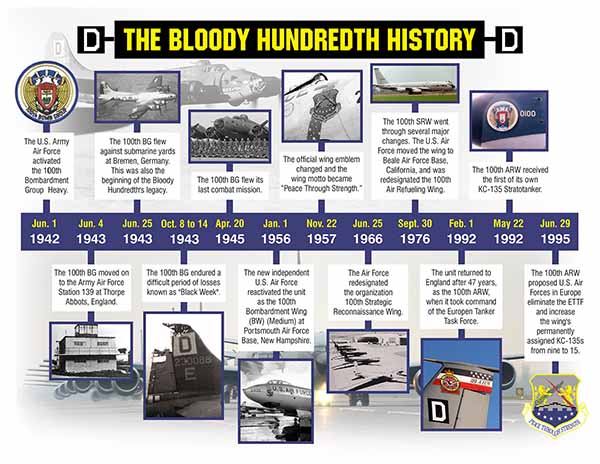 Flash product used at RAF Mildenhall
The base employs FTS 800 voltage-driven L-849 unidirectional airport lighting to keep airspace safe.