Obstruction Lighting during Wind Farm Construction
Ensure your wind turbines comply with federal lighting regulations by adhering to these three FAA requirements for lighting wind farm construction sites.
You cannot use a Notice to Airmen (NOTAM) to justify leaving turbines unlit at night.
Once turbines reach a height of 200 feet (61 meters) during construction, an FAA L-810 red light must be used. If power is not available, use a self-contained, solar-powered, steady-burning red LED light that meets the photometric requirements of an L-810 lighting system. The advisory circular clearly states that "using a NOTAM to justify not lighting the turbines until the entire project is completed is prohibited."
Source: FAA AC 70/7460-1L Section 13.8
FAA L-810 lights must have a minimum intensity of 32.5 candela at their peak.
The center of the vertical beam spread must be between +4 and +20 degrees. The vertical beam spread must be at least 10 degrees. The intensity at the highest and lowest angles of the beam spread must be at least 16.25 candela.
Source: FAA AC 150/5345-43H
Temporary solar lighting systems must have seven (7) days of autonomy and 32.5 candela.
Autonomy refers to how long the light will last if all solar charging is removed. Autonomy refers to how long the light will last if all solar charging is removed. A light with seven days of autonomy should shine for seven consecutive nights if there is no sunlight or charging during those days.
Source: FAA Engineering Brief 76
And within the next two months, the FAA should finalize HR 636, including further definition on what structures between 50' and 200' need to be lit. We will share information as it becomes available.
OL800 SOLAR LIGHT
Ideal for MET towers and wind farm construction, the OL800 solar obstruction light complies with FAA L-810 and ICAO low intensity type A and type B requirements. It is self-contained, easy to install and exceeds 32.5 candela for at least seven days. It also requires minimal maintenance.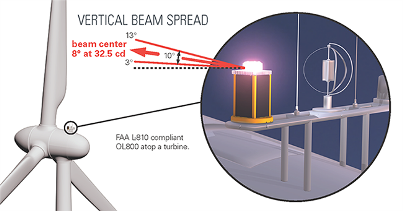 Stop by booth 3609 at AWEA WINDPOWER 2017 or contact sales for an in-person demo.