Flash Technology Launches Vanguard® Red Series
Vanguard Red FTS 371 SMART offers affordable, accurate and reliable LED aviation obstruction lighting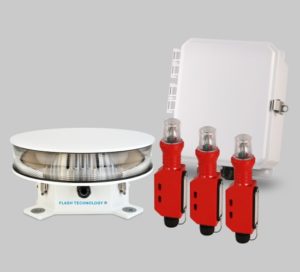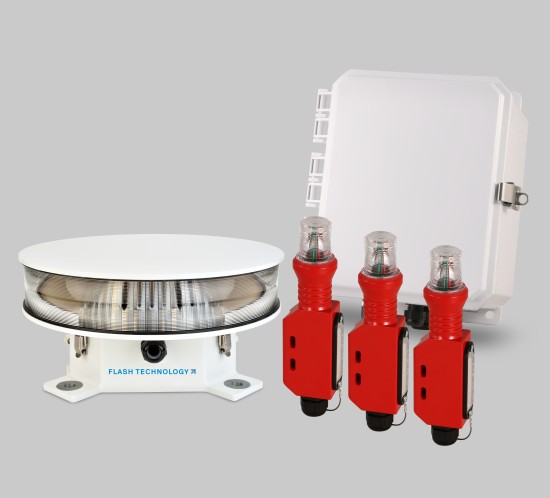 Franklin, Tenn. (October 3, 2016) — Flash Technology, a global leader in aviation obstruction lighting solutions, announces the launch of the Vanguard Red series with the FTS 371 SMART. The series supports an efficiency flash mode for lower power consumption, as well as new LED monitoring technology that ensures compliance with FAA flashing marker requirements.
"The use of LED lighting decreases marker power consumption by as much as 98%," says Pete Bruce, senior director of sales. "And with changing marker requirements per FAA AC 70/7460-1L, marker alarms can now be NOTAM-worthy events. The FTS 371 SMART provides a new approach for accurately monitoring low-power LED markers."
The FTS 371 SMART employs patent-pending monitoring technology that will not be influenced by changes in incoming power and temperature, providing consistent and predictable results. The marker and controller utilize a feedback circuit between them, allowing constant current monitoring for each marker installed. This approach does not require a special cable.
With a Modbus RTU serial output and (4) dry contact relays, the Vanguard Red FTS 371 SMART supports different monitoring requirements. An optional FTM 190 monitoring unit converts the Modbus to SNMP v3 traps. It supports up to (2) beacons and (8) markers, and is available with 85-265 VAC or ±12-48 VDC power supply options.
The FTS 371 SMART is an FAA type L-810/L-864 red aviation obstruction lighting system for structures under 350' AGL (FAA type A0 and A1 towers). This new Vanguard Red product meets FAA AC 150/5345-43H and can accommodate both AC 70/7460-1K and -1L marker requirements. The system also meets Transport Canada CAR 621.19, ICAO Type B and Type C (6th Edition) and DGAC Mexico.
About Flash Technology
Flash Technology, LLC is based in Franklin, TN and is a subsidiary of SPX Corporation, a global multi-industry manufacturing leader. Flash Technology designs, manufactures, installs and services FAA-compliant aviation obstruction lighting systems, tower lights and monitoring equipment. Founded in 1970, the global leader supports a wide range of business industries including aviation, broadcast, telecommunications, utilities and wind energy.
About SPX Corporation
SPX Corporation is a supplier of highly engineered products and technologies, holding leadership positions in the HVAC, detection and measurement, and engineered solutions markets. Based in Charlotte, North Carolina, SPX Corporation had approximately $1.5 billion in annual revenue in 2016 and more than 5,000 employees in about 15 countries. SPX Corporation is listed on the New York Stock Exchange under the ticker symbol "SPXC." For more information, please visit www.spx.com.
Media Contact
Mark Lane
322 Nichol Mill Ln, Franklin, TN 37067
615.503.2000