Vanguard® Red FTS 371 SMART SNMP Product Announcement
Flash Technology, a global leader in aviation obstruction lighting solutions, announces the Vanguard Red FTS 371 SMART SNMP, a red obstruction light with SNMP traps.
The FTS 371 SNMP is ideal for tower owners who require SNMP monitoring capabilities on painted red towers, including utilities with microwave communication towers and industrial sites. The system offers Ethernet-based SNMP monitoring. An optional LTE modem is also available.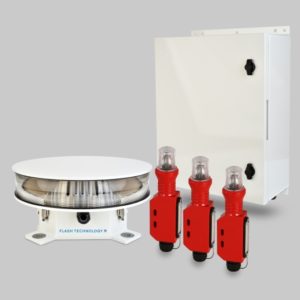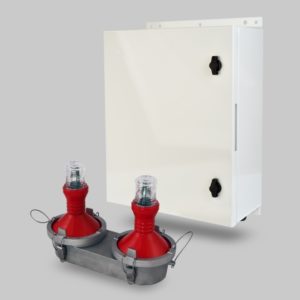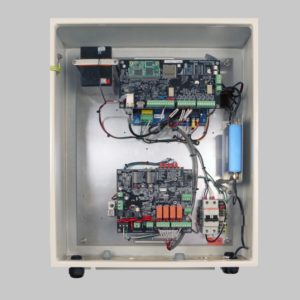 SNMP Controller with Optional Modem
Regulatory Compliance
Federal Aviation Administration –
FAA types L-810/ L-864/L-885 red lighting system for FAA A0/A1/A1+1 structures
Accommodates both AC 70/7460-1K (steady) and 1L (flashing) marker requirements
Meets or exceeds FAA AC 150/5345-43H
International –
ICAO Annex 14 (7th edition) medium intensity type B and C
Transport Canada CAR 621 types CL-864/CL-885
DGAC L-864
Features and Benefits
The Vanguard® Red FTS 371 SMART SNMP combines the capabilities of FTS 371 SMART lighting controller and FTM 190 monitoring units into one enclosure, allowing for easy installation and operation.
Compact footprint: Combining the controller and monitoring into one unit saves on installation space and simplifies installation and troubleshooting
Monitoring: Remote monitoring reporting and diagnostics automate lighting inspections, allow for FCC QLI waivers and reduce the number and cost of truck rolls
Increased diagnostic capabilities: 8 dry contact monitoring points improve diagnostic and troubleshooting capabilities
Graphical web interface: Full diagnostic information and remote control of the system via the optional LTE modem or Ethernet-based connectivity
Battery backup: System status reports and alarms remain functional despite a power outage
Optional LTE modem: Optional modem allows for monitoring over Verizon or AT&T LTE networks
Infrared beacon LEDs: Night vision compatibility to satisfy the soon-to-be-released FAA infrared lighting requirements
Multi-light system: Supports up to 8 markers and 2 beacons for AC systems; 1 beacon for DC systems
GPS synchronization: Configure multiple structures to flash in sync, useful on wind farms and other multi-light systems
Photodiode alarm inhibit: Allows the photodiode alarm to be switched off in locations having 24 hours of darkness
Surge protection: Industry-leading surge protection in the event of a lightning stroke
International compliance: Meets or exceeds FAA, ICAO, Transport Canada and DGAC
Flash rate: Based on your filing status, configure a flash setting of 20, 30, 40 or 60 flashes per minute (200 ms flash duration)
Warranty: 5-year warranty on lighting system; 2-year warranty on monitoring components
Part Numbers
F13714S0 — A0 FTS 371 SMART SNMP
F13714S1 — A1 FTS 371 SMART SNMP
F13714S2 — 1+1 FTS 371 SMART SNMP
For more information, please contact a lighting expert.