Temporary and Emergency Solutions for Airports and Helipads
Enhance safety, capability and reliability with redundant portable airfield lighting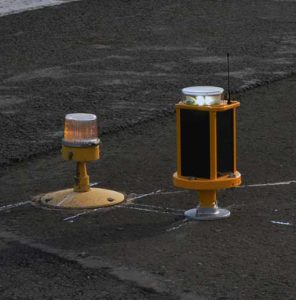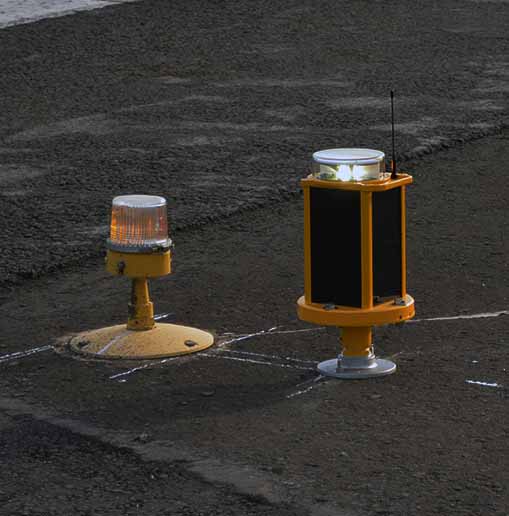 An industry leader in portable airfield lighting, Flash Technology's solar airport lighting products have demonstrated time and time again that they can stand up to the harshest conditions and operate reliably, independent of electrical infrastructure.
Our portable airfield lighting is self-contained, easy to install and requires virtually no maintenance for an average of 7 years.
These qualities make Flash Technology airfield lighting the ideal solution for backup and redundant airfield lighting.
Portable airfield lighting benefits
Flash airfield lighting requires no electrical infrastructure. When used as a backup system to traditional grid-supplied airfield lighting, our self-contained design and wireless control eliminate the need for a backup generator and electrical wiring. This translates to lower installation costs, lower maintenance costs and lower overall cost to the end-user.
Our solar-charged, battery-powered airfield lighting remains fully charged, ready to operate at the push of a button.
Permanent, temporary and emergency solutions
With offerings as diverse as your application, our portable airfield lights can be installed permanently or temporarily adjacent to existing airport lights. We offer total solar solutions for airfields and helipads. Installation can be as simple as placing the light on its stable, integrated base or mounting it on one of our flanged options.
Mounting options include:
Permanent flange mounts
Temporary or permanent stake mounts
Portable rubber mat mounts
Temporary and emergency solutions can be deployed rapidly. A 4,000-ft runway can be deployed in less than an hour; permanent installation provides instant access to reliable airfield lighting.
Your sturdy maintenance-free self-contained lights were deployed in one day, lighting our parking pads, refueling areas, taxiways and four landing pads for our 140-plus helicopters. They instantly made our operations safer.
- US Defense, Middle East, May 2006
Everything is working great. The lights are virtually maintenance-free. I clean them every so often but that's about it. We haven't needed to run the generator backup but I still do it about every other month. The lights have been a great product.
- Airfield Manager, Salerno Afghanistan