Southport Flying Club – Gold Coast, Australia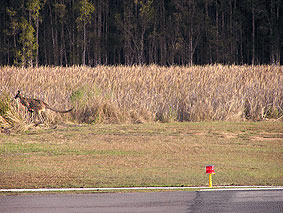 A self-contained airport lighting system installed recently on the Gold Coast may indicate a new trend for general aviation airfields and an opportunity for many airfields to install lighting for the first time. Southport Flying Club has installed solar airport lights, which is a first for Australia and in some aspects a world's first. For some time, the airfield's hard-wired lights had become unreliable and a decision was made to replace them with solar LED lights from a local Gold Coast company, Orion Solar Solutions (a Flash Technology partner).
A total of 53 lights were supplied, each light being self-contained with solar panel, lighting module, battery pack and electronics. The lights are used for runway edge, taxiway edge and threshold lighting applications. They switch on automatically at dusk and go off at dawn, and require only minimal sunlight to return to a full charge. The lights were supplied with regulation mounting stands designed to break away in the event of an object impacting the lights.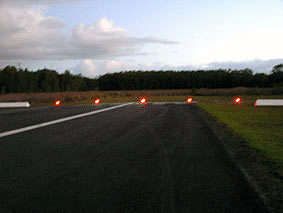 Orion's technology was chosen after a successful field trial where the company's lights tested favorably against a competing alternative. "The lights are fantastic and we couldn't be happier with their performance," stated Southport Flying Club's President, Mr. Errol Godbold. "The savings from having no cabling or trenching costs were significant, there was no disruption to air traffic and there will be no impact on our electricity bills."
Shortly after the lights were installed, they were put to the test when parts of the airfield were flooded in the recent downpour to hit the Gold Coast. Although submerged underwater, the lights continued to function and the Club reports no failures in any of the affected lights.
Orion Solar Solutions specializes in the supply and support of solar LED lighting products for aviation, marine, roadway and transit markets. "The Club's airfield is the first in Australia to be completely lit by solar power and we believe they are the first in the world to switch from an existing hard wired system to solar power," says John Holliday, managing director of Orion Solar Solutions. "We recently completed successful trials of our lights by the Royal Flying Doctor Service in Charleville and we are in discussions with a number of airfields throughout Australia for the installation of similar systems during the coming months."