The Vanguard Red FTS 371 is a low-power FAA L-810/L-864 red obstruction lighting system designed for FAA type A0/A1 structures (under 350′ AGL). The light meets FAA AC 150/5345-43J and can accommodate both AC 70/7460-1K and 1L marker requirements. The system also meets Transport Canada CAR 621.19, ICAO Type B and Type C (7th Edition) and DGAC Mexico.
The FTS 371 solar obstruction light package includes everything needed for solar-powered aviation applications outside the United States where a minimum of 7 days of autonomy is not required.
FTS 371 Features
Flash rate of 20, 30, 40 or 60 flashes per minute (200 ms flash duration)
Infrared beacon LEDs for night vision compatibility
Mode override switch
Photodiode control with alarm inhibit option
Modbus RTU Serial RS-485
1 dry contact relay (primary alarm)
Support for up to 4 markers and 1 beacon
5-year warranty
FTS 371 Options
Infrared marker LEDs
Dusk to dawn operation does not require a lighting controller
Enclosure
Custom-sized solar power supplies provide power when grid power is unavailable. Systems are sized based on load and geographical location, which dictates solar irradiation.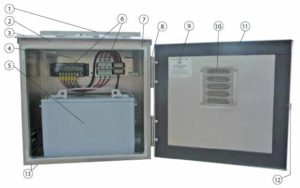 The enclosure is rated NEMA 3R with mill-finished aluminum. Size is 20.6" x 17.5" x 12" (524 mm x 445 mm x 305 mm).
Mounting tab
BAA-1 cabinet
Rain drip lip
Back panel
Battery
Electrical assembly
Double flanged door opening
Stainless steel hinge
UL listing/NEMA rating
Fiberglass "insect proof" screen on all louvered openings
Closed cell neoprene gasket
Stainless lockable draw latch
(2) 1/2" NPT knock-outs (CGBs/conduit fittings)