Port Mann Bridge – Vancouver, British Columbia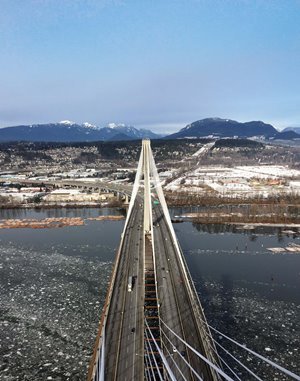 Spanning the Fraser River to connect cities within metro Vancouver, the original Port Mann Bridge opened in 1964. It was a steel arch bridge carrying five lanes of Trans-Canada Highway traffic.
To address congestion, the British Columbia Ministry of Transportation completed construction on the new Port Mann Bridge in 2012. A tiered-arch bridge, the towers are approximately 246 feet (75 meters) tall above deck level, with a total height of 535 feet (163 meters) from the footings. The span between the towers is 1,540 feet long, making it the second longest cable-stayed span in North America.
The new bridge added lanes for HOV traffic as well as cycling and pedestrian access, options unavailable on the prior bridge. It was constructed to accommodate the future installation of light rapid transit.
Upon opening, the Port Mann Bridge overtook the Sydney Harbour Bridge for the Guinness World Record for the world's widest bridge. However it is now the second widest bridge in the world, following the new Bay Bridge in San Francisco.
FLASH PRODUCT USED IN VANCOUVER
The Port Mann Bridge employs the Flash Technology FTB 225 high intensity xenon lighting system.