Flash Technology Launches Vanguard II Obstruction Lighting Systems
Advanced medium intensity obstruction lighting system now available with higher surge suppression ratings and more features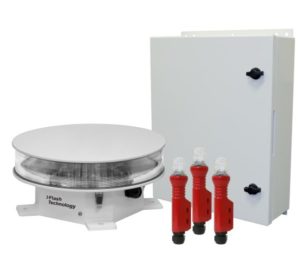 Franklin, Tenn. (April 14, 2014) – Flash Technology announces the launch of the Vanguard II product line, an FAA certified medium intensity dual obstruction lighting system.
Vanguard II provides obstruction lighting on telecom towers, broadcast antennas and other obstructions over 200 feet. The complete system includes Flash Technology's patent-pending flashhead and system controller, L-810 side markers and a suite of standard features.
The Flash Technology Vanguard II stands at the front of obstruction lighting systems with an industry leading surge suppression rating of 25 kA. Tested by two independent laboratories, the Vanguard II withstands the equivalent of multiple 200 kA lightning strikes, typically the highest rated strikes in nature.
Vanguard II Standard Features
The new system controller comes with a variety of features and options. The 4-line backlit interface allows easy diagnostics, programming and control of the system. The flashhead design uses LED by-pass circuitry to ensure that if one or more LEDs fail, the unit continues to operate in compliance. To allow easier installation and communication, Vanguard II uses a single cable for flashhead and markers. The new L-810 marker weighs only 2 pounds. It and a new enclosure are pre-drilled for various mounting options, without the need for additional hardware. Vanguard II installs more quickly and easily than the competition. An integrated radar interface also comes standard with the Vanguard® II system controller.
Vanguard II Options
Optional features and different monitoring options create a versatile lighting system to accommodate a variety of industries. With the optional SMART card, Vanguard II monitors and controls the system remotely while providing full diagnostic information. Monitoring via dry contacts is standard. But SNMP, Modbus and Eagle through cellular or ethernet are also available. Wifi access enables connectivity onsite for diagnostics and lighting inspections. Integrating multiple systems is quite easy with the system controller's interface and GPS synchronization. Vanguard II is also available with infrared (IR) for night vision goggles as well as optional DC input power. Finally, firmware can be upgraded remotely or onsite through USB or SD card.
About Flash Technology
Flash Technology, LLC is based in Franklin, TN and is a subsidiary of SPX Corporation, a global multi-industry manufacturing leader. Flash Technology designs, manufactures, installs and services FAA-compliant aviation obstruction lighting systems, tower lights and monitoring equipment. Founded in 1970, the global leader supports a wide range of business industries including aviation, broadcast, telecommunications, utilities and wind energy.
About SPX Corporation
SPX Corporation is a supplier of highly engineered products and technologies, holding leadership positions in the HVAC, detection and measurement, and engineered solutions markets. Based in Charlotte, North Carolina, SPX Corporation had approximately $1.5 billion in annual revenue in 2016 and more than 5,000 employees in about 15 countries. SPX Corporation is listed on the New York Stock Exchange under the ticker symbol "SPXC." For more information, please visit www.spx.com.
Media Contact
Mark Lane
322 Nichol Mill Ln, Franklin, TN 37067
615.503.2000