AWEA WINDPOWER 2016
FLASH TECHNOLOGY DISCUSSES FAA LIGHTING REGULATIONS AND OBSTRUCTION LIGHTING SOLUTIONS FOR WIND TURBINES AT AWEA WINDPOWER 2016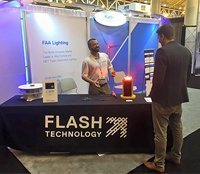 Earlier this month, Flash Technology exhibited in booth #2912 at AWEA WINDPOWER 2016 at the Ernest N. Memorial Convention Center in New Orleans, LA.
FAA lighting regulations and recommendations for wind turbines and MET towers changed with the release of AC 70-7460-1L in December 2015. Staff discussed how these changes impact American wind farms and related obstruction lighting solutions.
Two products commonly used by Flash's wind energy clients include the FTS 370i Vanguard® and the OL800 solar LED obstruction light. With an integrated and compact design, the FTS 370i offers a superior surge suppression rating of 200kA, a rugged GPS receiver and improved synchronization to address RF, noise and interference. The OL800 is an integrated solar solution providing 7-10 days of battery autonomy. It's perfect for temporary installations, such as MET towers and wind turbines under construction.
About AWEA
The American Wind Energy Association (AWEA) is the national trade association for the US wind industry. A clean and renewable energy source, wind ranks as the fastest growing energy market.