10 Easily Avoidable FAA Lighting Mistakes
The FAA has made strides in past years to simplify and clarify obstruction lighting regulations. Despite this, violations of these standards exist in the field. Here are 10 easily avoidable mistakes to help ensure your structures comply with regulations.
1. Use lights listed in the FAA AC 150/5345-53D Addendum.
Manufacturers like Flash Technology must adhere to FAA AC 150/5345-43 – Specification for Obstruction Lighting Equipment when designing and manufacturing aviation obstruction lights. 43J is the current standard for OEMs.
All lights are third-party tested for compliance to the current FAA advisory circular. If the light passes, it is listed in FAA AC 150/5345-53D – Airport Lighting Equipment Certification Program Addendum and can be sold for applications outlined in FAA 70/7460-1 – Obstruction Lighting and Marking.
If a structure employs lights that are not listed in the 53D Addendum, it would not meet FAA regulations and the owner could incur fines.
2. Use OEM parts.
When an obstruction light requires maintenance, use parts directly from the light's original equipment manufacturer (OEM). In June 2018, the FAA issued a letter to the industry saying:
"Only entire systems and devices with production parts are certified under the current FAA certification program and Advisory Circular (AC) 150/5345-53D. The certification is invalidated for a product modified with non-OEM replacement parts or non-production components."
The FAA forbids the use of non-OEM parts. If an accident occurs due to a lighting system failure and the National Transportation Safety Board (NTSB) finds non-OEM parts in the system, the liability falls with the structure's owner, who could incur fines.
3. Monitor your lighting systems.
Monitoring obstruction lights is required. When possible, use a remote monitoring device to check a system's operational status every 24 hours. If not using automated monitoring, you must visually inspect the light every 24 hours and log the results. (FAA AC 70/7460-1M Section 4.7)
4. Report NOTAMs in a timely fashion.
A lighting system failure lasting more than 30 minutes requires a Notice to Airmen (NOTAM). Non-compliance could result in penalties and fines. (FAA AC 70/7460-1M Section 2.4)
5. Ensure your lighting system is set to the proper flash rate.
If your site refiled from AC 70/7460-1K or an older circular to 1L or 1M, ensure the flash rate is set appropriately for your new filing. Many sites opted to refile in order to remove L-810 marker lights, or had to refile when adding an antenna or appurtenance to the top of the structure.
For example, an E2 tower under AC 70/7460-1K required 3 L-864/L-865 medium intensity beacons flashing at 20 flashes per minute (FPM) and six or more L-810 steady-burning marker lights. When the tower refiled under 1L, the L-810s were removed and the L-864/L-865 flash rate should be set to 30 fpm.
6. Know when to use red/infrared obstruction lights.
Red LED obstruction lights fall outside the visible spectrum for pilots using certain types of filters on night vision devices. FAA AC 70/7460-1M requires that all red LED obstruction lights employ infrared (IR) LED strings. Separate monitoring of IR LEDs is required, and an IR failure is a NOTAM-worthy event.
If your structure is filed under FAA AC 70/7460-1L or an earlier circular, the use of infrared lights is not required.
7. Know when to use flashing L-810 marker lights.
According to some studies, steady-burning red lights attract migratory birds. The FAA issued AC 70/7460-1L in December 2015, with the goal of implementing avian-friendly lighting configurations and reduce the number of bird collisions with towers. The aviation configuration carried forward to the current 1M standard.
Towers 350 feet above ground level (AGL) or less: L-810 marker lights should flash in unison with the L-864 beacon at 30 fpm
Towers over 350 feet AGL: no L-810 marker lights required
These changes do not affect towers marked by a steady-burning OL2 fixture. Towers using two L-810 marker lights on top are typically less than 150 feet AGL and do not require guy wires.
8. Blocking or nesting lights is not permitted.
Ensure that new and existing equipment on the structure, such as antennas, hardware or appurtenances, does not block or nest the light. If new equipment is added that blocks more than 7/8-inch of the light, relocate or raise the light to ensure its 360-degree output is not obstructed. (FAA AC 70/7460-1M Section 4.6.9)
Due to the small size of L-810 marker lights, they should never be blocked by any structure. (FAA AC 70/7460-1M Section 4.4.9)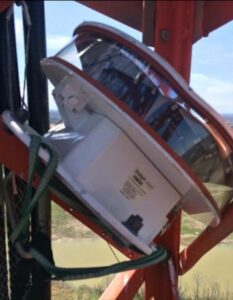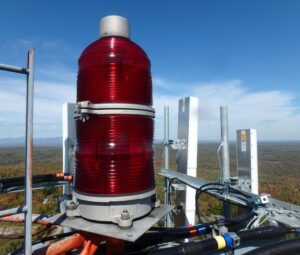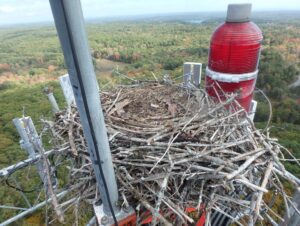 9. Light shields are not permitted.
Light shields can inhibit the light's photometrics and lead to environmental obstructions, such as snow build-up, bird nests and wind loading. (FAA AC 70/7460-1M Section 4.9)
This policy does not apply to ice shields in geographic areas prone to falling or accumulating ice. If required, ice shield should be installed above the light in order to prevent build-up while not obscuring the light's 360-degree output.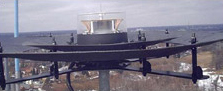 10. Visually inspect incandescent and xenon lights every 2 years.
If your site employs incandescent or xenon fixtures, you must inspect and repair the lighting system every 24 months. This includes checking the input voltage, replacing lights at roughly 75% of their rated life expectancy, changing flash tubes and visually inspecting for UV damage, cracks, crazing, dirt build-up, etc. The purpose of this exercise is to ensure the certified light's output is not compromised. (FAA AC 70/7460-1M Section 4.4)