Workplace Safety is a Top Priority
No service or job is so urgent and important that work cannot be performed in a safe manner. Flash Technology embodies this belief and expects employees to maintain safety standards in every aspect of their role. To enforce these standards, Flash Technology developed a safety committee consisting of employees from every department, ultimately leading to the establishment and monitoring of good safety systems.
Volunteer STAR Certification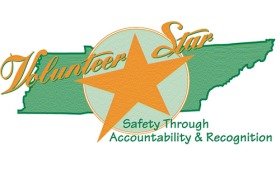 In May 2018, Tennessee OSHA visited our Franklin, TN facility to evaluate our commitment to continuous workplace safety improvement. A review of facility self-evaluations, on-going communication with site personnel and the information provided to TOSHA personnel during their evaluations indicated our drive for continuous improvement to our safety and health program.
Due to a successful evaluation, Flash Technology received a two-year extension of the site's current Volunteer STAR certification. Flash Technology is one of only 36 sites in the state of Tennessee with this certification, exemplifying our strong emphasis on safety and health for our employees.
NATE STAR Certification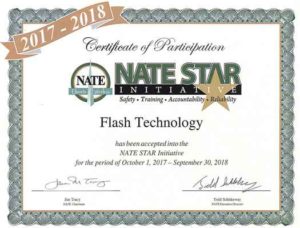 Tower climbing is a rare occupation, with no more than 10,000 climbers in the industry. The occupation has a mortality rate of approximately 10 times that of construction, with nearly 100 tower climbing deaths over the past nine years (towerclimber.com).
In an effort to decrease the number of climber deaths, the NATE STAR initiative helps tower companies operate safely, and recognizes tower erectors and service companies who adhere to these safety standards. NATE STAR (safety, training, accountability and reliability) asks participants to train their employees, perform site safety audits and implement safety programs. Because of their compliance to the NATE STAR requirements, Flash Technology Field Services earned a NATE STAR Certification renewal, further displaying the company's emphasis on keeping employees safe in the workplace.
OSHA Safety Stand Down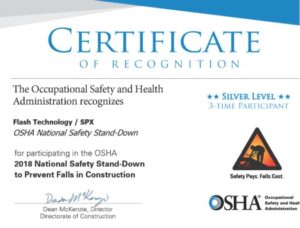 On Tower Technician Appreciation Day (Tuesday, May 8, 2018), Flash Field Services took time out for the annual OSHA Safety Stand Down. Launched in 2014, OSHA created the event to drive awareness for fall prevention and protection. Each year, the team reviews Flash's multi-point fall protection and tower rescue safety policy, including training renewals, inspecting climber rigging and walking through tailgate meeting and site inspection checklists.
When you're in the field, ensuring your work trucks are in good condition and well stocked is also important to on-the-job safety. Any number of surprises can arise while driving to or from job sites. Crews took the opportunity to inspect their vehicles and received driver safety instruction from the service manager.
At the end of the day, our primary reason for improving safety in our manufacturing and field operations is to protect our work family. Reducing the number of accidents, time out of work and loss of life helps keep all of our staff safe and promotes an overall more enjoyable workplace.