Vanguard® Medium FTS 370 Series
As leaders in lighting compliance since 1970, Flash Technology provides turnkey solutions with a collaborative approach — ensuring you receive a reliable, cost-effective solution that meets your unique lighting needs. The legacy continues with the robust Vanguard Medium.
Standard Features
Long-lasting powder-coated aluminum
Industry-leading 25kA surge protection withstands 99% of lightning strikes
Remote SNMP monitoring with ethernet or LTE
Patented Fresnel lens minimizes ground scatter
Interleaved LEDs and by-pass circuitry provide longer life by allowing the loss of individual LEDs up to the 25% limit
Outdoor Wi-Fi antenna for diagnostics and lighting inspections
ADLS interface (radar)
Automatic failsafe switches to day mode after 19 hours of no mode change (can be disabled)
4-line OLED backlit display for visibility in any lighting conditions
Dry contact monitoring (day, night, marker, PED, GPS, comm alarms and mode status)
Meets FAA AC 70/7460-1K and 1L, ICAO Annex 14 6th Edition, CAR 621 2nd Edition and DGAC standards
5-year warranty
Options
850nm infrared LEDs – compliant with FAA Engineering Brief 98
SMART Card – monitor and control the system remotely and receive full diagnostic information through LTE modem or Ethernet-based connectivity. SNMP, Modbus or Eagle protocols can be used.
GPS synchronization
Upgrade firmware remotely
TECK90 Support – protects from RF interference and mechanical damage on broadcast towers up to 700'
Systems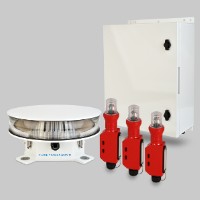 FTS 370 Dual
FAA: L-864/L-865, L-885/L-866
ICAO: Medium Intensity Type A/Type B
CAR 621: CL-864/CL-865
DGAC: L-864/L-865
Vanguard Inclusive Program
Enroll in VIP and you can "set it and forget it" for years!
Capital expense model — no operating expenses
Predictable budgeting — one-time flat rate fee
For new and existing Vanguard lighting systems
5-year parts and labor warranty on new systems
Flash automatically dispatches and repairs
Contact us today for a quote.