Solar Safety Lights Set New Extreme Performance Record at Meadowbank Mine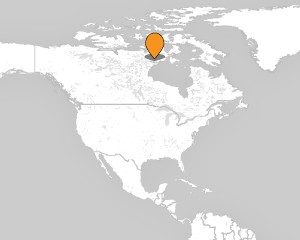 At Meadowbank Mine, 70km north of Canada's Arctic community of Baker Lake, winter temperatures can reach well below -36 °C (-33 °F) and December days get as little as 4 hours of sunlight. Despite the harsh conditions, Flash Technology's 600 Series solar safety lights have performed reliably throughout the winter at the remote mining site. "The lights have worked perfectly all year long," notes Mine Site IT Analyst Jerome Lamarre. According to Lamarre, the coldest temperature this year reached -46 °C with a wind chill of -65 °C .
Until recently, Meadowbank Mine has used a set of early generation 601 lights operating in autonomous flash mode to mark hazards from dusk to dawn. With assistance from Canadian distributor Land-Sea Power, Meadowbank has recently purchased an additional 12 A650 solar obstruction lights to use at the northern mine.
Meadowbank Mine opened in 2010 and is operated by Agnico-Eagle, a Canadian headquartered gold producer with operations located in Canada, Finland, Mexico and the United States.