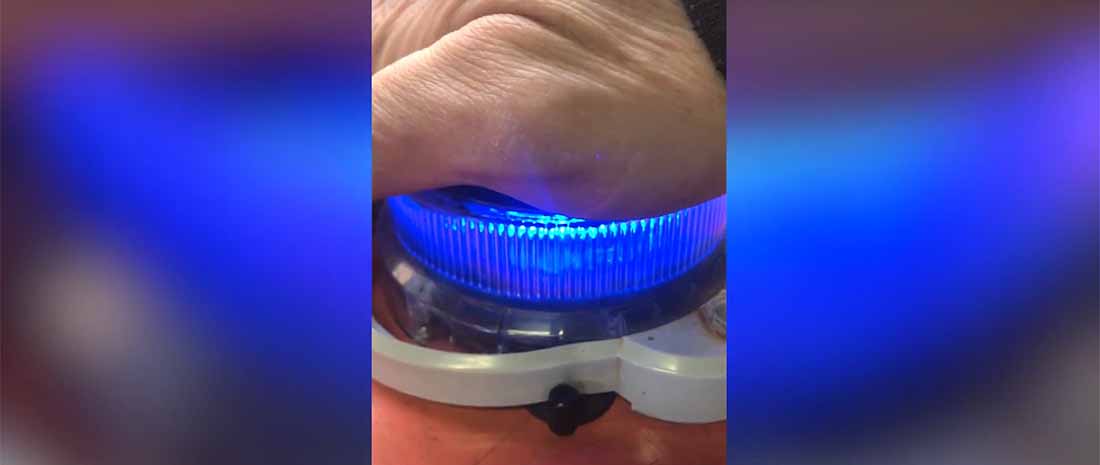 Our OL2A is built tough to withstand the harsh conditions of its many applications, from construction zones to mining sites. At a railyard in Pennsylvania, a customer recently received unexpected proof of our claims, when a tractor-trailer accidentally ran over a blue safety flag, crushing the blue OL2A safety light attached to it.
In railyards, the blue safety flag and blue light alert railroad operators that workers are on, under or between railroad equipment. Many railroads select our blue solar lights because they last 5+ years with no battery change and can withstand dust, extreme heat, water and other environmental hazards. Would the OL2A survive under the weight of a heavy rig?
Robert Freshley, assistant manager of operations and maintenance at Lehigh Valley Rail Management, reports that the flange mount was the only damaged part of the light. The rest was completely intact and functioning. MIL-STD-202G compliant for shock and vibration, the OL2A's premium-grade polycarbonate body and lens were durable enough to withstand the pressure.
Customer support quickly sent Freshley a replacement flange mount base.
"Thanks again for the new base, and for a product that actually lives up to its advertised capabilities," says Freshley.
And thanks to Freshley, for supplying the photos and video footage of the light.
Learn more about our durable, tractor-trailer-proof OL2A solar safety light.