Flash Wins Broadcast Industry Award
While at the National Association of Broadcasters (NAB) tradeshow, Flash Technology received a Pick Hit broadcast industry award for its new FTS 370d Vanguard® II LED tower lighting system.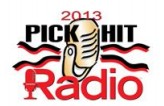 Flash manufactures aviation obstruction lights for broadcast towers, telecom towers, wind turbines and other tall structures that require FAA lighting. The Vanguard LED series debuted last fall. And it includes features like surge suppression, WiFi connectivity, upgradeable firmware and more.
About the NAB and the Pick Hit Award
NAB is a nonprofit representing radio and television broadcasters. NAB seeks to advance industry affairs, improve broadcast quality and encourage content and technological advances.
The largest broadcast tradeshow, NAB occurs in Las Vegas each year. Radio magazine sent anonymous judges throughout the exhibit area in search of innovative products that benefit the broadcast market.
"Their team reviews the products of hundreds of exhibitors. Finally, they select 20 new products for the Pick Hit award," said Eric Haugseth, Flash Technology marketing analyst. "We are excited that the Vanguard was chosen as one of the recipients."