Flash Launches Vanguard LED Obstruction Lighting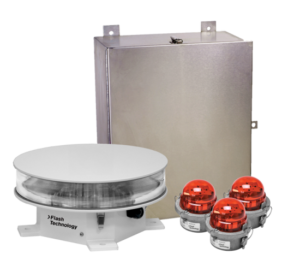 Franklin, Tenn. (January 15, 2013) – Flash Technology announces a new class of tower lighting systems. Through innovative design and in-depth research into the needs of the obstruction lighting market, the Vanguard LED® series takes a new direction with obstruction lighting. The new series suits a variety of different markets and industries including telecom, wind, broadcast, utilities and more.
The Vanguard series is designed, tested and built in our facility in Franklin, TN.
Incorporating the latest technology and design, Vanguard offers many features previously unavailable from Flash Technology. These new features and options allow the Vanguard to surpass expectation when it comes to obstruction lighting.
Designed and tested to exceed IEC 61000-4-5 surge immunity requirements, the Vanguard LED series resists surge damage. Optional Wi-fi capability allows communication with the lighting system from on the ground via wi-fi enabled laptop, tablet or smartphone.
Available in dual, white, red or catenary configurations.
Please contact your Flash Technology representative for pricing and more information.
About Flash Technology
Flash Technology, LLC is based in Franklin, TN and is a subsidiary of SPX Corporation, a global multi-industry manufacturing leader. Flash Technology designs, manufactures, installs and services FAA-compliant aviation obstruction lighting systems, tower lights and monitoring equipment. Founded in 1970, the global leader supports a wide range of business industries including aviation, broadcast, telecommunications, utilities and wind energy.
About SPX Corporation
SPX Corporation is a supplier of highly engineered products and technologies, holding leadership positions in the HVAC, detection and measurement, and engineered solutions markets. Based in Charlotte, North Carolina, SPX Corporation had approximately $1.5 billion in annual revenue in 2016 and more than 5,000 employees in about 15 countries. SPX Corporation is listed on the New York Stock Exchange under the ticker symbol "SPXC." For more information, please visit www.spx.com.
Media Contact
Mark Lane
322 Nichol Mill Ln, Franklin, TN 37067
615.503.2000