Flash Technology Earns NATE STAR Certification
We proudly announce that Flash Technology Field Services is certified by the NATE STAR (safety, training, accountability and reliability) initiative.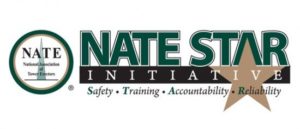 NATE established the STAR initiative in order to establish an industry-wide culture of safety. The program recognizes tower industry companies who voluntarily adopt and adhere to high safety standards and industry-recognized best practices.
NATE STAR Requirements
10 hours tower safety training for all tower site personnel, with supervisors completing 30 hours
Adoption and implementation of a safety and health program that meets or exceeds the NATE Accident Prevention, Safety and Health Program Guide, 4th edition
Presence of a competent person (supervisor) on site at all times
Conducting and submitting site safety audits on 10% of Flash projects
Flash Technology employs worksite safety in our Franklin, TN headquarters. We are proud that our service team has received this recognition for carrying these practices into the field, where they completed more than 3,800 service jobs in 2015 alone.
Contact Field Services for more information or to initiate a safety-oriented project at your site.