Flash Celebrates Manufacturing Day 2016
Each October, chambers of commerce across America partner with schools and manufacturers to celebrate Manufacturing Day. The annual event exposes the next generation of the American workforce to the variety of career paths available in manufacturing.
Today, Williamson, Inc. and students from Williamson County schools joined Flash Technology for an introduction to obstruction light manufacturing.
Made in Williamson: Manufacturing Day 2016
Flash Technology's aviation obstruction lighting solutions can be found on buildings, wind turbines and other tall structures across the world. Dan Harris, director of sales, explained how lighting obstructions, like cell towers and skyscrapers, alerts pilots of potential hazards in their flight path. The tower lights help pilots see these hazards in day or night and in all types of weather, thus preventing accidents.
For the safety of the public as well as pilots, Federal Aviation Administration (FAA) lighting regulations govern American airspace. As other countries typically have their own lighting requirements, Flash's FAA lights are also engineered to meet many international lighting guidelines.
Engineering a Manufactured Product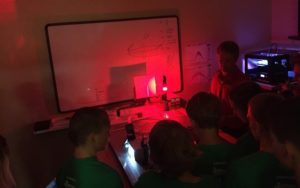 Electrical Engineer Russ Bruner walked students through product development stages, including initial ideas, 3D modeling and metal casting. While many of the high school students understood watts and lumens, they learned how math and science combine to craft lenses that refract and focus light. The resulting candela output meets FAA lighting intensity standards.
On the production floor, Jacob Stiles, manufacturing supervisor, explained how Burn In tests products for the field. In this special lab, lights are subjected to a variety of tests. This ensures individual lighting systems pass quality control and meet FAA standards before shipping.
Installation and Maintenance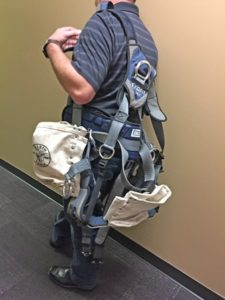 Work isn't finished when a product ships. All tower lighting systems require ongoing monitoring and maintenance. Flash's National Operations Center (NOC) supports the equipment remotely. A system monitors its own power consumption to determine whether or not a light is working. If a light malfunctions, an alarm is triggered. The system communicates this information to an online portal accessible by the NOC and the client. The NOC and our technical support team assist clients in troubleshooting errors and resolving alarms every day. When alarms cannot be resolved in a timely manner, a NOTAM (notice to airmen) must be filed.
When troubleshooting requires a site visit, a tower climb may be necessary. Service Manager Barry Baird shared his climbing gear with students. While this gear was empty, the tools alone can weigh upwards of 40 pounds. For safety, technicians use a variety of harnesses, ropes and carabineers when scaling tall structures. Despite industry-wide safety measures, however, tower climbing remains one of the most dangerous jobs in the world.
After attending the 2015 event, Deloitte and the Manufacturing Institute found that 81% of student participants were convinced a career in manufacturing could be interesting and rewarding. And while many students felt R2D2 was quite impressive, Flash hopes today's event inspired Williamson County students to consider a career in manufacturing.