September 9, 2016
In
News
Flash Attends CTIA Super Mobility 2016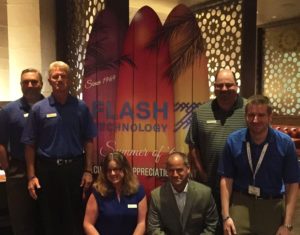 Flash Technology enjoyed this year's CTIA Super Mobility event on September 7-9, 2016 at the Sands Expo in Las Vegas, NV.
In booth 4548, we discussed FAA AC 70-7460-1L and how the HR 636 FAA Extension, Safety and Security Act impacts lighting requirements on structures below 200′ AGL. The Vanguard II FTS 370d, a dual FAA lighting system, was on display for customers. We also had a great time discussing client needs and socializing at our customer appreciation event at the Public House!
About CTIA
Since 1984, CTIA has represented wireless carriers, suppliers and providers and manufacturers of wireless data services and products. Advocacy outreach includes providing consumers with wireless options and information, component recycling and accessibility issues.